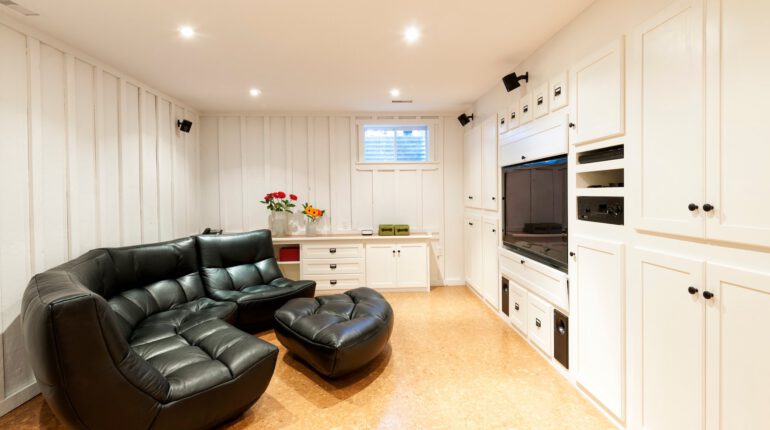 Basement renovations require some extra thought. The sunken space needs natural ventilation, must meet specific building codes and should function as a comfortable space. Many homeowners choose to finish their basement in order to increase the square footage of their living space. However, the challenge of feeling comfortable in your basement goes beyond construction considerations. You need natural light to avoid feeling like you're in a cave. Fortunately, you can let the sun in with a few design tips. Consider including the following features when you remodel your basement:
Build an egress
Building codes require that you have at least two ways out of a bedroom, which is important in the event of an emergency. The stairs are the obvious first route and windows are the second. If you're adding a bedroom to your basement, you'll have to include an egress window, which is a bit like a well dug next to the foundation. You've probably seen one, and you most likely already have one. However, egress windows don't have to be reserved for basement bedrooms.
Egress windows pour more light into the basement than the half windows placed just above the foundation wall. Consider adding a few more of these windows throughout the basement to get more natural light. Be sure to purchase egress windows that have a lock in order to secure your basement.
Make sure installation is air tight to cut back on energy loss. You can purchase energy-efficient egress windows that will cut down on heat and cooling loss while filling your basement with natural light.
Open the floor plan
Design the layout of your basement to allow for light flow. Avoid building too many walls and consider the location of your windows before deciding where those walls will go. For example, if you have a large egress on one wall, be sure there are no walls blocking the light's path. You can place walls parallel to the window, but not perpendicular. This allows light to move to other parts of the basement. Ideally, the light should move uninterrupted from one side of the basement to the other.
Treat furniture the same way by preventing it from blocking the flow of light. Tall bookshelves or other large pieces can be placed parallel to the windows.
Install a solar tube
Solar tubes are tunnels that bring natural light inside the house. They are placed on the roof or exterior wall, then a series of mirrors helps the light travel to the other end of the tube. Choose a design that will lead into the basement to shine light on those dark spaces. Solar tubes are great for getting light to the areas that egress windows can't reach.
Hang mirrors
Take a cue from the solar tube and hang mirrors in your basement. The light you get from egress windows and solar tubes will be reflected throughout the space. Be strategic when hanging them, considering angles. Draw a mental line from the light source to the mirror and see how it will bounce. If you're having a difficult time visualizing the light placement, shine a flashlight at the mirror. This will give you a very good idea of how light will reflect.
Control the light
You have egress windows, solar tubes, an open floor plan and mirrors all working to fill your basement with natural light. However, there are times when you don't want a bright space, such as when you want to watch a movie downstairs. That's when retractable screens come in handy. Have them installed on your egress windows to control the amount of light entering your basement. Deploy the screens when you want to watch a film or play a video game to reduce glare caused by sunlight.