We believe the best job in the world is the one that makes you the happiest.
Making life better is our mission: for our customers, for our employees, and for the people in our communities. In our most recent annual survey, 95% of our employees said they're happy to work at Phantom.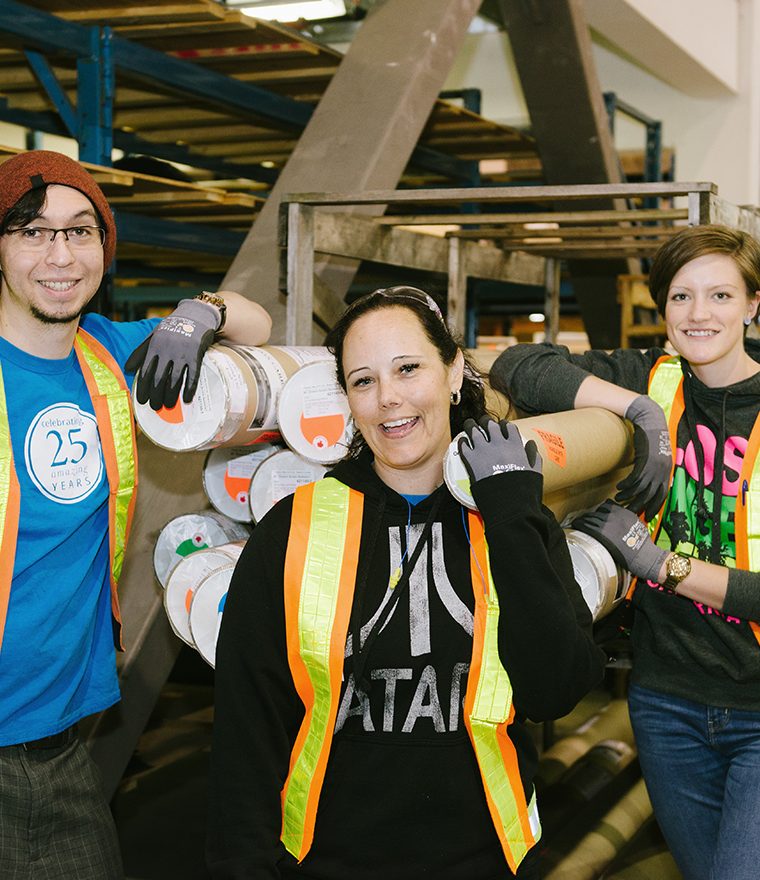 Giving back.
We strive to not only be a good company; but also to be good to the community and society. For us, supporting charities and being part of a global community is in our company's – and people's – DNA. We serve the community and encourage employees to participate in:
– Fundraising events to support our two corporate charities – World Vision and Cyrus Centre.
– Volunteering our time for various community-based events, including food drives for the Abbotsford Archway Food Bank.
– In 2017, during Phantom's 25th anniversary year, we raised over $150,000 for Habitat for Humanity's Jimmy and Rosalynn Carter Work Project building affordable housing for families across Canada.
– In 2021, Phantom held a haircut fundraiser, and raised $20,000 for a yearly scholarship at the University of the Fraser Valley, where students can learn the Halq'eméylem language of the Stó:lō people.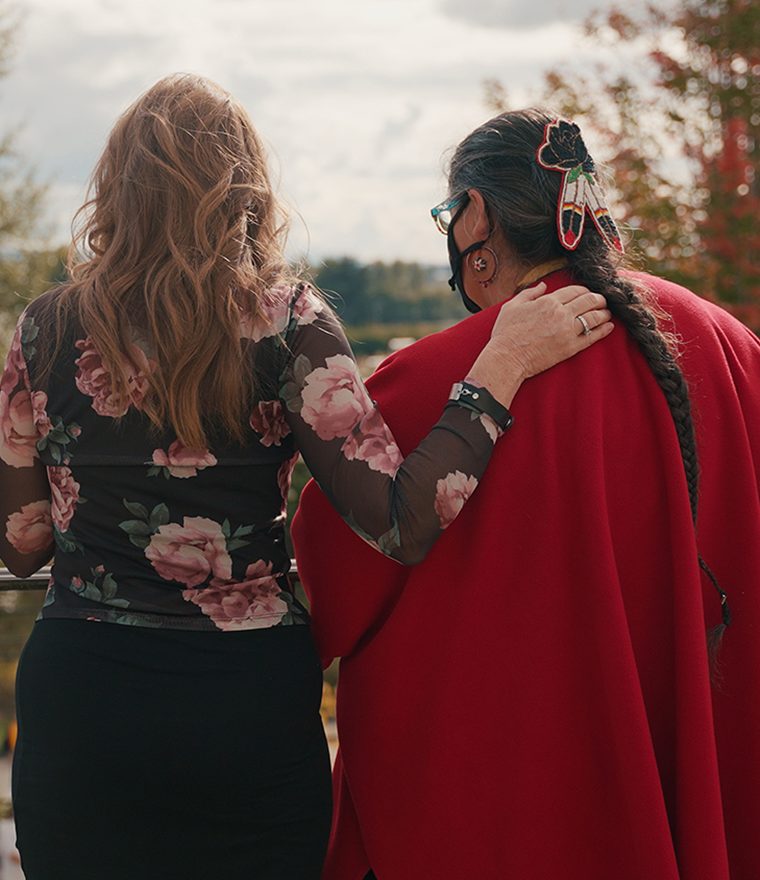 What makes us stand out?
At Phantom, we don't just walk the walk, we talk the talk. Our core values aren't something that are written for flare; they are demonstrated everyday by our caring, hardworking, and honest team members. We are constantly striving to improve ourselves, whether that's with our products, our relationships or our business–and continually succeed in doing so.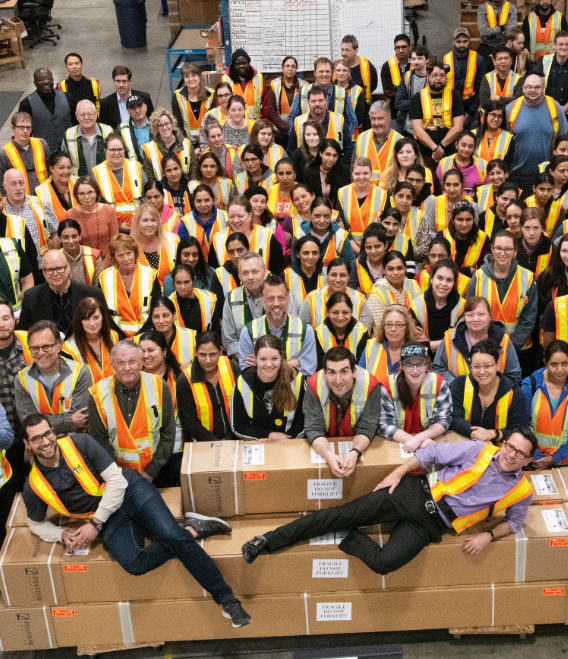 We're growing
Our team comes from a dozen different countries, bringing a truly diverse array of experiences and talent. We welcome applicants who are passionate about what they do, and who are eager to grow right along with us.
Please note that, due to volume, we can only get in touch with applicants chosen for an interview. Thank you for understanding!
HRIS Specialist
When you're a busy and growing manufacturer like us at Phantom Screens, your employee record keeping, and management becomes critical to efficiency. That's why we're looking for an experienced and knowledgeable HRIS Wizard to help us streamline our HR processes and systems to take us forward.
So, if you are ready for the challenge and want to work on a 12-month contract for a company as unique as you are, then we we'd love to hear from you.
An HRIS Specialist will be a part of our dynamic Employee Experience team where the team members have a can-do attitude and a desire to actively participate in continuous improvement processes.  The HRIS Specialist plays a key role in the development, implementation, and maintenance of our HRIS system (Ceridian Dayforce) associated with the collection, retrieval, accessibility, and usage of employee information for employee planning and activities.
Key Responsibilities:
Identify areas of opportunity to improve existing HRIS processes, functionality and workflow, and maximize technological capabilities to reduce manual processes and to improve data management and efficiency.
Ensures accuracy and completeness of data collection, analytics, and reporting of employee lifecycle data in master files and various support tools.
Establishes and maintains security and integrity controls.
Trains and provides troubleshooting tips to end users on features and functionality of Ceridian Dayforce and applications as needed.
Create, modify, and maintain a HRIS reporting process to identify the impact of internal trends
Pre-requisites to the role:
Strong understanding of Ceridian Dayforce, along with service delivery models.
Superior interpersonal and communication skills; interacting comfortably and confidently in writing or verbally with internal and external contacts at all levels
Advanced skills in the use of Microsoft Word, Excel, and PowerPoint.
Minimum Education and work Experience:
Minimum 2 years post secondary education in Human Resources Management, CPHR designation/ CPM certification will be preferred
At least 3 years' experience in Dayforce HCM HRIS (implementation and managing)
3-5years of experience in a dedicated HR role, with expertise across a range of HR disciplines, focusing on Canadian Compensation and Payroll
People love working at Phantom Screens and we're sure you will too. Take a look at the full job description and drop us a line with your most recent resume at [email protected].
Note: This is an on-site job, so all applicants should be locally available and must be legally entitled to work in Canada.
Production Technician
Experience Phantom! As an employer who genuinely cares about their employees, we are looking for people who want to work in a safe, clean environment and build a strong team with amazing co-workers.
Why work at Phantom?
Competitive compensation through a skill-based pay system
Group medical and dental benefits/ insurance
Lots of career advancement opportunities
Our employees are our family who are bound together by our core values, Speaking the Truth, Being Respectful, Pursuing Excellence and Practicing Stewardship
We believe in making life better, so value work life balance for our employees
Regular team building and social events – enjoy everything from pizza, food trucks and barbecue lunches to our annual holiday party.
Employee Care program
Onsite parking
Casual dress code
Convenient shift timing, with overtime opportunities.
We are looking for amazing people with a "can do" attitude, who are disciplined, hardworking and have a high level of commitment to be here on time and every day. No experience is necessary – we will provide all the training you'll need.
Requirements
Ability to stand for long periods,
Capable of lifting heavy objects,
Ability to multitask and work in a fast-paced environment,
Capable of performing repetitive, physical work,
Flexible to work in any area of the facility,
Able to communicate effectively and respectfully with team,
Able to learn and apply new concepts quickly,
Steel toed shoes/boots are a must, other PPE provided
Able to meet individual and production deadlines daily.
Shift Timings:
Morning shift: Monday to Friday (6:00am-2:15pm)
Afternoon shift: Monday to Thursday (2:30pm-10:45pm)
Please apply with your resume to [email protected] , we look forward to your future at Phantom where we can create an inclusive workplace to achieve our shared goals.
Note: This is an on-site job, so all applicants should be locally available and must be legally entitled to work in Canada.
Shipper
We ship our famous retractable screens to all corners of North America (and sometimes even further). Our shipping department is a busy one – getting window screens to Wichita, door screens to Denver and motorized screens to Montana … and lots of other places, too! That's why we're looking for Shipping team member to get our products and orders ready to ship, to the right place, right customer and within right time.
Requirements
Ability to stand for long periods,
Capable of lifting heavy objects,
Ability to multitask and work in a fast-paced environment,
Loading and unloading product into trailers, ocean containers, and flatbed trucks,
Able to learn and apply new concepts quickly,
Steel toed shoes/boots are a must, other PPE provided
Ensure that shipments contain proper documentation.
Maintain an organized work area according to safety procedures and regulations.
Manage inventory of shipping materials and supplies.
Shift Timings:
• 8:00 am to 4:30 pm, Monday to Friday
Please apply with your resume to [email protected] , we look forward to your future at Phantom where we can create an inclusive workplace to achieve our shared goals.
Note: This is an on-site job, so all applicants should be locally available and must be legally entitled to work in Canada.
Product Design Engineer
We are looking for a Product Design Engineer to help us keep delivering the amazing retractable screens that we have built our reputation on for over 29 years. We are looking for someone who will create new innovative designs and improve existing items and systems.
This successful candidate will apply established engineering and manufacturing principles to the design and development of new products, the modification of existing products, manufacturing equipment, measuring equipment, and supporting processes.
Key Responsibilities:
Define functional design requirements, collaborate on DFMA and CTQ requirements, generate design concepts, and recommend product design approaches necessary to meet requirements for new and improved products.
Review vendor drawings to ensure initial quality assurance and appropriate specifications and tolerances are defined; provide support in developing a measurement methodology to ensure compliance.
Create new and maintain existing drawings in the CAD data base and develop/maintain accurate and detailed technical support documentation.
Ensure all product designs meet test specifications as appropriate to minimize product liability exposure and ensure adequate performance to the customer (includes existing products, non-standard requests, product changes and new products).
You should have:
A degree or diploma in an engineering or associated discipline.
A minimum of five years related work experience in product engineering and manufacturing technologies, including designing and testing products.
A strong understanding and application of manufacturing processes, quality control processes, methods, and techniques.
Experience in project management and economic analysis is an advantage.
Superior computer skills using Microsoft Office and SolidWorks programs.
If this is something you are looking for as your next professional milestone, go through the full job description and drop us a line at [email protected] with your updated resume.
Systems Administration Manager
Phantom Screens is growing fast, and we need our technology, networking, and Infrastructure to keep pace with us.
We are looking for someone who can flex their IT Infrastructure and Systems Administration muscles in a challenging, friendly, and fast-paced environment. If you are able to bring a creative and dynamic approach to your work as a Systems Administration Manager, then we have the job for you!
The Systems Administration Manager will work closely with VP Technology Solutions, managing server administration and providing leadership in the development and implementation of system and security standards.
Key Responsibilities:
Develop operational plans, set priorities, and manage the implementation through external and internal technical resources.
Lead desktop and helpdesk support efforts, ensuring all desktop applications, workstations, and related equipment problems are resolved in a timely manner with limited disruptions.
Serve as a project manager, creates project documents, including plans, schedule and task lists and manage resource allocations, schedules, and risk.
Manage Corporate Systems – all servers and workstations to ensure the maintenance, configuration, and reliable operation of computer systems, network servers, and virtualization.
Manage Cyber Security – establishing security requirements, implementing network security policies, monitoring traffic for suspicious activity, configuring and supporting security tools, identifying threats, updating disaster recovery protocols and training employees in security awareness/procedures.
Qualifications:
A minimum of 4 years post-secondary education in Computer Information Technology & Systems (incorporating Microsoft PC & Server OS's, networking, Active Directory, IIS, MS Office, MSSQL, SQL, Crystal Reports).
A minimum of 5 years' experience in a similar system support role, preferably within the field of manufacturing.Strong Project management and System Administration experience.
A minimum of 2 years post-secondary education in a Systems development role.
An equivalent combination of education and experience is preferred; however, skills and abilities come first
So, check out the detailed job description and drop us a line with your resume at [email protected]. If we fit together well, then we'll look forward to chatting with you.
Order Fulfillment Representative (Temp)
We are seeking an Order Fulfillment Representative for the summer! You'll ensure that our Retail Partners/ customers have the best experience possible when ordering and using Phantom Screens! In this position, you will answer calls from current and potential Retail Partners / customers, help them with any problems or questions they may have, and call other customers back in a timely manner. If you cannot help them, you will direct them to another employee who can provide assistance. Strong communication skills and a background in customer service are the main qualifications for this position.
Responsibilities
Promptly respond to incoming telephone calls; providing assistance wherever possible, transferring to an appropriate recipient, or taking/forwarding messages.
Using information obtained from Phantom corporate lead tracker, Homepage generate leads or Home Show details, contact potential customers to schedule appointments.
Prepare outgoing mail and receive, sort/distribute incoming mail.Assist in updating documentation as needed.
Assist in coordinating events and facilitating smooth communication between dealers and the Distributorship.
Attend to the general maintenance of office equipment; order office supplies and ensure that the office area is maintained in a presentable and professional manner.
Follow-up with distributorship team members in the provision of scheduling reminders, appointment details, and prompting for overdue responses.
Maintain an effective and efficient flow of information between all members of the distributorship.Proofread written materials as directed and make recommendations for improvements or revisions.
Requirements
A confident self-starter with a cheerful yet professional disposition; a positive and upbeat personality and a genuine desire to provide customer service at the highest level.
Superior communication and interpersonal skills, and the ability to build/maintain positive relationships with a variety of internal and external contacts at all levels.
In particular, an excellent telephone manner that is friendly and efficient and which never fails to reassure all contacts of their importance to the Phantom organization.
An aptitude for time-management; the ability to multi-task, and remain calm and focused in an environment subject to constant interruptions.
Accurate and efficient keyboarding skills using Microsoft Office, and other software programs.
If you're looking for work this summer, take a look at the job description on our website and drop us a line at [email protected]. We're looking forward to chatting with you!
Contract length: 4 months
Part-time hours: 40 per week
National Retail Sales & Admin Coordinator
We're looking to hire someone with exceptional communication and interpersonal skills, who can build/maintain positive relationships with a variety of internal and external contacts at all levels. Professional telephone manner with ability to diffuse customer conflict while facilitating/liaising with a variety of individuals in resolving time sensitive issues.
Network Retail Sales & Administration Coordinator is the primary administrator for NRS Sales across the USA and Canada and is responsible for ensuring that all NRS orders are submitted 100% accurately and in a timely manner to the distributor network.
Key Responsibilities:
While being the first contact point for National Retail Sales stores for troubleshooting and customer care, the incumbent will be giving both timely and helpful information to the stores and to the distributor network.
Providing secondary phone support backup for all phone lines
Responsible for ensuring the Distributor network is aware of established program requirements (service times, background checks, store visits, etc.), maintaining applicable records, holding them accountable, assisting where necessary and reporting on compliance
Responsible for maintaining databases to ensure accurate master store listings by account, display types, product lines, pricing and new stores
Helping to improve processes and procedures to provide better and more reliable service
Applications are invited from candidates with:
exceptional Data entry skills
a professional and confident disposition
accurate keyboarding skills at a speed of 45 wpm
a working knowledge of MS Office
demonstrated use of Excel at a basic level
People love working at Phantom Screens and we're sure you will too. Take a look at the full job description and drop us a line with your most recent resume at [email protected]
Forklift Operator
We're looking for someone to join our Materials Team to fill the role of Forklift Operator. This hands-on position supports all Raw Materials Warehousing activities necessary to physically control inventory and to provide materials in a timely fashion to Production areas to ensure manufacturing continuity.
Responsibilities
Manoeuvring forklifts safely in busy industrial environments
Safely stacking and unstacking large quantities of goods onto shelves or pallets
Moving goods from storage areas to loading areas
Unloading deliveries and safely relocating the goods to their designated storage areas
Ensuring that forklift driving areas are free from spills or obstructions
Regularly checking forklift equipment for faults or damages
Keeping up to date on health and safety requirements and forklift operating procedures
Consolidating partial pallets for incoming goods
Requirements
The ability to interpret, understand and act upon written instructions
Communicate and deal with all contacts (internal and external) in a professional and efficient manner
Ensure the safe handling of all materials, and completes all related documentation promptly and accurately
Superior time management skills and keen attention to detail
Counterbalance sit down forklift experience in warehouse environment.
Knowledge of industrial storage procedures, such as the correct way to stack pallets on top of one another
Ability to itemise and record stock for inventories
Accredited forklift operating licence from an industry-recognised body
Ability to safely lift and/or move up to 60 pounds unassisted
Forklift certification is a requirement for this position, and heavy lifting will be a large component.
Based at our facility in Abbotsford, this position is available with full time hours Monday through Friday, 6:00 a.m. to 2:30 p.m.
Take a look at full job description and if you think you have it in you, have an eye for detail, have reliable transportation and are dependable we'd love to meet you! , send in your resume at [email protected]
"What makes Phantom such a special place is the people.

From the very beginning, and right from the highest level in the organization, valuing of people has been an unwavering core value.

Because it is genuine and ingrained from the top down, it has attracted people who share those values, and the result is a company that has an incredible abundance of truly great people to work with." Brent F. - VP Product (Wearing the Phantom pants since 2003)
"I am proud to say I work at Phantom Screens because the people here genuinely care about each other and it's a fun atmosphere to work in. We have an incredible team that are dedicated and committed to working hard to achieve our goals. There's lots of opportunities for advancement and development, and the variety of each job makes it great to work here! One aspect of my role that I really love is being involved in helping to create fun social events and fundraising opportunities that help "Make Life Better" for our employees and our community." Dana B. - Manager, Office of the CEO (Wearing the Phantom pants 2002)
"In a short period of time, Phantom has given me numerous opportunities to grow and gain valuable experience in my field. Every day I work with people I trust, people who are hardworking, and people who are easy to get along with." Brandon F. - HR Generalist (Wearing the Phantom pants since February 2021)
"The best thing about working at Phantom is the people I work with every day. I feel supported, when I don't know something, others are always there to help. The culture is so unique, so many people from different life experiences and the respect for those differences make up the fabric of Phantom." Meredith C. - Business Development Specialist (Wearing the Phantom pants since June 2020)
"Having worked at Phantom for over half my life, I must say, it has always been the people, the family feel of the company. It really is a second home.

There are always new opportunities and an ever-changing environment. Phantom has helped me advance both professionally as well as in my personal life." Leon D. - Product Support Manager (Wearing the Phantom pants since 1997)
"Supporting each other through friendly and constructive feedback, makes it fun to work at Phantom!" Pete P. - Product Engineering Manager (Wearing the Phantom pants since 2018)
"We have a great team of people who care passionately about their work and the colleagues. We make really cool products that people can relate to and appreciate. Working for a growing and successful Canadian Manufacturing company on our beautiful West Coast is a real treat. The thing I enjoy the most about my role is getting to see people grow and develop and helping them along that career journey. Phantom has tonnes of potential and I look forward to helping it achieve that." Stephen H. - Chief Supply Chain Officer (Wearing the Phantom pants since 2019)
"I never expected to be at Phantom long-term as I had plans to work as a pilot but having already experienced a little of what Phantom had to offer as an employer, I decided it would be the perfect place to rethink my future goals. Since then, I have thoroughly enjoyed working at Phantom as there are always ways to positively impact both those around me as well as those afar (Phantom has a wonderful focus on those in need and supports several charities)." Peter W. - Manufacturing Engineer (Wearing the Phantom pants since 2020)