We believe the best job in the world is the one that makes you the happiest.
Making life better is our mission: for our customers, for our employees, and for the people in our communities. In our most recent annual survey, 95% of our employees said they're happy to work at Phantom.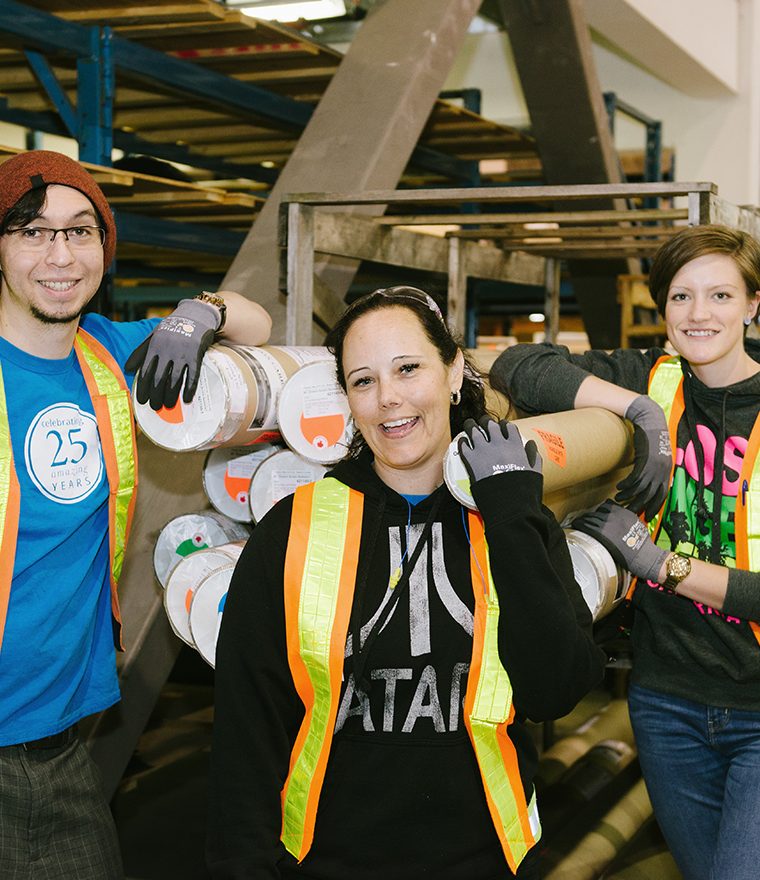 Giving back.
We strive to not only be a good company; but also to be good to the community and society. For us, supporting charities and being part of a global community is in our company's – and people's – DNA. We serve the community and encourage employees to participate in:
– Fundraising events to support our two corporate charities – World Vision and Cyrus Centre.
– Volunteering our time for various community-based events, including food drives for the Abbotsford Archway Food Bank.
– In 2017, during Phantom's 25th anniversary year, we raised over $150,000 for Habitat for Humanity's Jimmy and Rosalynn Carter Work Project building affordable housing for families across Canada.
– In 2021, Phantom held a haircut fundraiser, and raised $20,000 for a yearly scholarship at the University of the Fraser Valley, where students can learn the Halq'eméylem language of the Stó:lō people.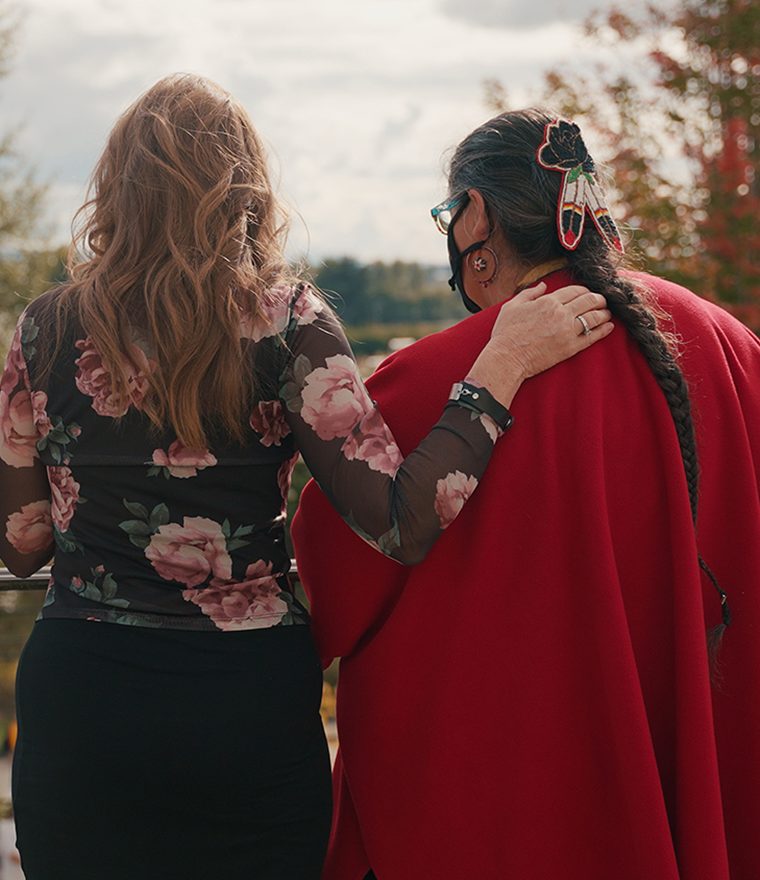 What makes us stand out?
At Phantom, we don't just walk the walk, we talk the talk. Our core values aren't something that are written for flare; they are demonstrated everyday by our caring, hardworking, and honest team members. We are constantly striving to improve ourselves, whether that's with our products, our relationships or our business–and continually succeed in doing so.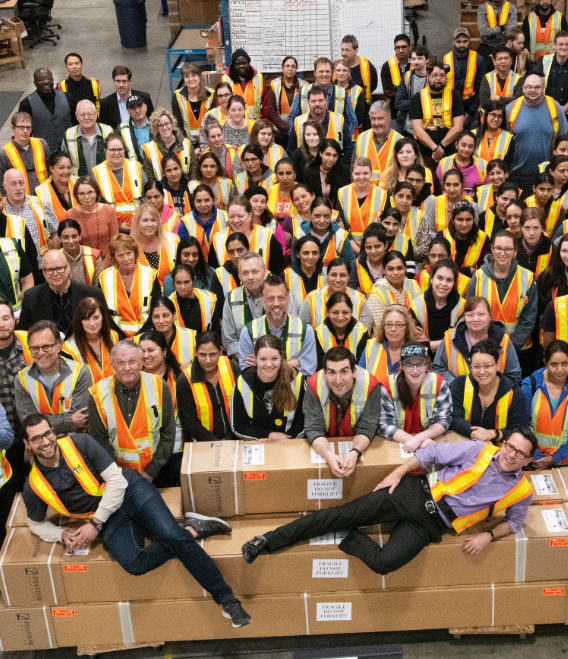 We're growing
Our team comes from a dozen different countries, bringing a truly diverse array of experiences and talent. We welcome applicants who are passionate about what they do, and who are eager to grow right along with us.
Please note that, due to volume, we can only get in touch with applicants chosen for an interview. Thank you for understanding!
Reporting to the Employee Experience Manager, the Talent Acquisition Specialist will partner with hiring managers across functions within our Abbotsford facility to attract and recruit the best candidates for their teams, as well as maintain an exceptional candidate experience. As part of the Employee Experience team, you will play a key role in supporting the continued growth of Phantom Screens as we look to continue our high growth and hire great people who will support our culture and live our values!
You will:
Own the full-cycle recruitment process for Phantom including: role intake, posting, sourcing, conducting interviews, scheduling interviews with hiring managers, presenting offers, and assisting in the decision making process.
Actively attract, engage, and select high quality talent to support Phantom's current needs and future growth using a variety of sourcing and interviewing techniques.
Assist in building Phantom Screen's employer brand within the talent market to increase awareness and excitement among potential candidates, with a specific focus on diversity and inclusion, and creating a positive candidate experience every time.
Educate, train, and provide feedback to hiring managers to ensure consistency across the organization (i.e. creating an efficient and engaging interview process, including assessments and interview questions that accurately determine candidate capabilities).
Manage relationships with third parties involved in the recruitment process, including but not limited to colleges/universities, job boards, and external recruiters/agencies.
Collaborate with internal resources to set up new and improve existing recruitment and hiring processes.
At a minimum, you have:
3+ years of full cycle recruitment experience working in a fast-changing environment, ideally in manufacturing, warehouse or production facility
Experience managing various stakeholders and their competing priorities and delivering consistently high levels of service
A deep understanding of Talent Acquisition/Recruitment fundamentals, including pipelining passive candidates, employer branding, and sourcing for hard-to-fill positions.
Demonstrated ability to maintain confidentiality and exercise discretion, especially as it relates to sensitive candidate information
Strong organizational skills and attention to detail
Advanced skills in Microsoft Office Suite (Word, Excel, PowerPoint
Experience with HRIS or ATS, or other related databases and software (we use Dayforce).
Why you'll love it here:
A competitive salary and company benefits
Generous discount on Phantom screens
We trust and support you – take ownership of your work and push your ideas from inception to execution
We want to see you grow – we support your career progression and provide learning and development opportunities
We take our work seriously, but we don't take ourselves too seriously. You'll work with fun, energetic, and supportive teams.
We've kept up the work-hard, play-hard energy virtually. From team socials to holiday and milestone celebrations, you'll have plenty of opportunity to connect socially with teammates across the company.
Distributor Manager
Phantom is looking for a Distributor Manager who is self-motivated, results oriented with solid business acumen and is great with people. You will have exceptional communication and interpersonal skills, passionate about best business practices with a strong ability to build/maintain positive relationships with internal and external contact at all levels. This role requires personal drive, tireless persistence, customer focus and business strategy expertise.
Key Responsibilities:
Develop and maintain relationships with assigned distributors in each territory, while facilitating ongoing product training and support
Review sales territories and set and implement sales goals with distributors, ensuring revenue targets of distributors are achieved
Establish and lead regular communications with distributors.
Train distributors to ensure continual improvement in capability, knowledge, customer service, performance, and competitive selling.
Ensure distributors are equipped with the necessary sales skills, marketing programs and product knowledge to represent Phantom Screens, this may be achieved by involving other Phantom Screens divisions to assist with instruction.
Assist distributors with Dealer recruitment and training as required.
Implement new sales strategies and techniques with the distributors to ensure the support of all Phantom Screens product lines.
Communicate and apply pricing and discount policies.
Provide support for Sales/Warranty claims for distributors
Prepare and execute annual reviews of distributors.
Monitor lead pipelines ensuring timely follow-up by the specified Distributor
Prioritize markets and determine market entry strategies for new regions and for new and existing product portfolios.
Collect and analyze market data to drive growth and develop markets.
Acquire an understanding of current and future market trends that may impact Phantom Screens sales.
Create and execute monthly and quarterly reports in a timely and efficient manner.
Provide distributor feedback to Phantom Screens leadership to assist with the continuous improvement plan
Ability to provide regular written and verbal presentations.
Attend trade exhibitions and product education/training programs.
Establish and maintain effective working relationships with Distributors and other members of the Phantom Screens team.
You should have:
Minimum 5 years' experience in business development, sales, and marketing through a distributor-based channel in the building products industry / B2B environment within large geographically disbursed regions, preferably CAN/US
Proven success in consultative sales and territory management with a strong focus on business development
Proficient in the use of CRM programs and other sales related software programs
We believe in making life better not just for our customers but also for our people who work hard for these customers, thus we offer:
Competitive compensation
Dental, health, AD&D, disability, life insurance and more
Lots of career advancement opportunities
Our employees are our "family" who are bound together by our core values, Speaking the Truth, Being Respectful, Pursuing Excellence and Practicing Stewardship
Opportunity to work from home as we value work life balance for our employees
Regular team building and social events – enjoy everything from pizza, food trucks and barbecue lunches to our annual holiday party.
Employee and family assistance program
Onsite parking
Casual dress code
Convenient shift timing, with overtime opportunities.
Tuition reimbursement
Vacation and leaves in line with the provincial legislation
We are really looking forward to chatting with you!
**This is Remote position with the ability to be at head office on occasion**
If this role excites you, have a look at the detailed job description here
Quality Engineer
Phantom Screens is growing fast – and we're recruiting for top talent!
We're putting together a topflight manufacturing and quality assurance team to keep us delivering the amazing retractable screens we've built our reputation on for the last 30 years.
Right now, we're looking for a Quality Engineer, who has the knowledge and expertise to develop and maintain a Quality Management System (QMS) for Phantom's Manufacturing, Logistics & Supply Chain Operations.
What You'll Do:
Contribute to the creation and implementation of best practice quality vision, strategy, policies, processes, and procedures to aid and improve operational performance.
Respond to customer complaints and quality issues using containment actions, full analysis (incl. root cause), poka-yokes (error proofing), and by implementing short-term and long-term countermeasures – establish a corrective action database.
Lead and guide the indirect reports to identify and solve quality issues.
Train others in all aspects of the quality system and application of procedures.
Act as a point of contact for manufacturing related sales claims and warranty issues.
Update quality documentation and communicate to carry forward lessons learned from quality concerns.
Build and improve the core elements of the Quality Management System (QMS), such as: Quality Manual, quality- related Standard Operating Procedures and Work Instructions.
Implement all relevant procedures described in the Quality Management System (QMS) and ensure compliance. Introduce new systems and procedures where appropriate.
Lead or assist with the identification and implementation of a suitable Quality Management software.
Develop, implement, manage and report on key performance indicators (KPIs) for each area of responsibility.
Ensure KPIs are met by working to the corporate and departmental goals.
In conjunction with the Supplier Quality function, reduce the effect of non-conforming supplier materials on production quality.
Who you are:
Our ideal candidate brings 10 years of experience in a Manufacturing(Consumer Product) industry and over 5 years in a quality management leadership role.  You have:
Relevant manufacturing/engineering/quality degree is preferred
Significant experience in a manufacturing environment
Experience working in Quality Assurance
Six Sigma/Lean Manufacturing skills (Green or Black Belt preferred)
Experienced in dealing with customers and suppliers
Good working knowledge of Statistical Analysis tools
Experience with implementing/maintaining ISO9000/AS9100/TS16949 is an asset
Membership of an industry related professional body (ASQ or APICS) is an asset.
What we offer:
We believe in making life better not just for our customers but also for our people who work hard for these customers, thus we offer:
Competitive compensation
Dental, health, AD&D, disability, life insurance and more
Our employees are our "family" who are bound together by our core values, Speaking the Truth, Being Respectful, Pursuing Excellence and Practicing Stewardship
Opportunity to work from home as we value work life balance for our employees
Regular team building and social events – enjoy everything from pizza, food trucks and barbecue lunches to our annual holiday party.
Employee and family assistance program
Free Onsite parking
Casual dress code
Tuition reimbursement
Vacation and leaves in line with provincial legislation
Overtime pays aligned with provincial guidelines
We'll look forward to meeting you!
This is an On-site role, and the Candidates must be eligible to work in Canada.
"What makes Phantom such a special place is the people.

From the very beginning, and right from the highest level in the organization, valuing of people has been an unwavering core value.

Because it is genuine and ingrained from the top down, it has attracted people who share those values, and the result is a company that has an incredible abundance of truly great people to work with." Brent F. - VP Product (Wearing the Phantom pants since 2003)
"I am proud to say I work at Phantom Screens because the people here genuinely care about each other and it's a fun atmosphere to work in. We have an incredible team that are dedicated and committed to working hard to achieve our goals. There's lots of opportunities for advancement and development, and the variety of each job makes it great to work here! One aspect of my role that I really love is being involved in helping to create fun social events and fundraising opportunities that help "Make Life Better" for our employees and our community." Dana B. - Manager, Office of the CEO (Wearing the Phantom pants 2002)
"In a short period of time, Phantom has given me numerous opportunities to grow and gain valuable experience in my field. Every day I work with people I trust, people who are hardworking, and people who are easy to get along with." Brandon F. - HR Generalist (Wearing the Phantom pants since February 2021)
"The best thing about working at Phantom is the people I work with every day. I feel supported, when I don't know something, others are always there to help. The culture is so unique, so many people from different life experiences and the respect for those differences make up the fabric of Phantom." Meredith C. - Business Development Specialist (Wearing the Phantom pants since June 2020)
"Having worked at Phantom for over half my life, I must say, it has always been the people, the family feel of the company. It really is a second home.

There are always new opportunities and an ever-changing environment. Phantom has helped me advance both professionally as well as in my personal life." Leon D. - Product Support Manager (Wearing the Phantom pants since 1997)
"Supporting each other through friendly and constructive feedback, makes it fun to work at Phantom!" Pete P. - Product Engineering Manager (Wearing the Phantom pants since 2018)
"We have a great team of people who care passionately about their work and the colleagues. We make really cool products that people can relate to and appreciate. Working for a growing and successful Canadian Manufacturing company on our beautiful West Coast is a real treat. The thing I enjoy the most about my role is getting to see people grow and develop and helping them along that career journey. Phantom has tonnes of potential and I look forward to helping it achieve that." Stephen H. - Chief Supply Chain Officer (Wearing the Phantom pants since 2019)
"I never expected to be at Phantom long-term as I had plans to work as a pilot but having already experienced a little of what Phantom had to offer as an employer, I decided it would be the perfect place to rethink my future goals. Since then, I have thoroughly enjoyed working at Phantom as there are always ways to positively impact both those around me as well as those afar (Phantom has a wonderful focus on those in need and supports several charities)." Peter W. - Manufacturing Engineer (Wearing the Phantom pants since 2020)