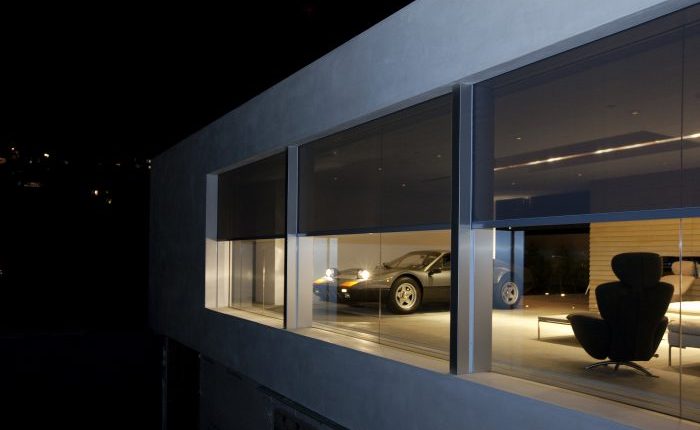 About the home
In 2009, Maserati shined a spotlight on the place where cars are parked through a nationwide call for entries in their Ultimate Garage competition. Holger Schubert, a renowned architect and car aficionado, took the challenge and designed his garage specifically for this competition. He was awarded first place for the existing garage category. Schubert's "garage" is an exquisite space that resembles a museum exhibit of the ultimate man cave of the twenty-first century. As an admirer of art and cars, Schubert designed and built the area to be his retreat, with the Ferrari as the focal point.
Location:

Los Angeles, CA

Property Type:

Residential/Commercial
The need
Schubert required a solution that enabled him to shade the sun and prevent the solar heat from entering the room. In addition, the entire screen had to remain completely hidden when not in use to preserve the architectural integrity of the building.
The solution
Phantom motorized screens provide solar protection while maintaining the look of the room. The motorized screens were mounted on the exterior of the windows to absorb and dissipate heat and glare before it reaches the glazing. The openness level of the mesh combined with the darker shade help to preserve the view to the outside and maintain a comfortable level of interior light. At night, the screens are completely retracted in recessed housings, and the car is reflected on three 16-foot glass windows.
What makes this project special?
The screens on this garage are entrusted to protect the home owner, architect, and builder- Holger Schubert's, 1984 Ferrari 512 BBi Boxer- the first mid-engined road car to bear the Ferrari name.
Check out the image gallery