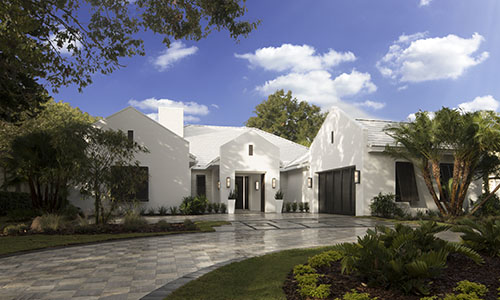 About the home
About the home
This 30 year old Florida home on beautiful Lake Nona was the perfect selection for the New American Remodel. It's overall layout was very claustrophobic with a distracted design and structural flaws rendering it virtually unlivable. Fortunately, architect Phil Kean and his team saw the home's potential and were able to transform the property into a modern Bahamian masterpiece complete with up-to-date furnishings, breezy open spaces, and a sprawling outdoor living area.
Location: Orlando, FL
Designer: Phil Kean Design Group
Product: Motorized retractable screens
The need
One of the goals was to give this home a more open layout to improve functionality and style. Specifically, the main floor's cramped layout was to be opened into a sprawling great-room, which could blend seamlessly with the outdoor living space.
The solution
A Phantom motorized screen was the perfect addition to make the home's impressive great room, lanai, and patio one large open space. The screen not only blocks the Florida heat, but also complements the home's clean, modern style while allowing fresh air to move throughout the house.
What makes this project special
Phil Kean (PKDG) often chooses Phantom's screens because they don't distract from his design. He stated about this project, "When not needed, the screens retract completely out of sight into their color-matched housings, preserving the look and design of the original opening."
Check out the image gallery