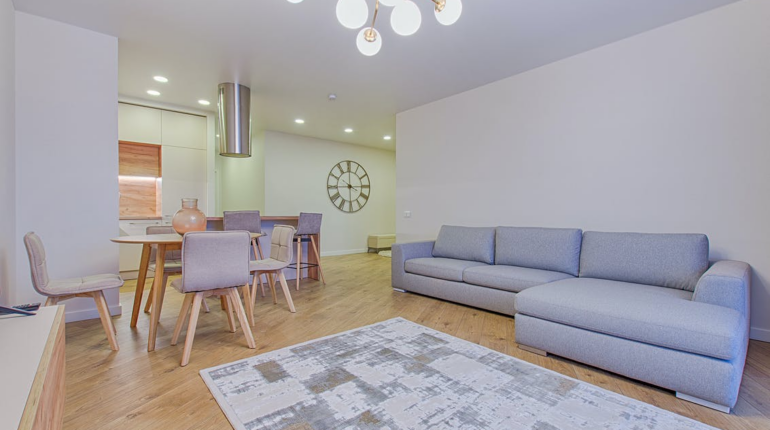 Your home is your haven. It's your refuge after a long day out. You need the peace and quiet of your living room, the welcoming comfort of your kitchen and dining room, and the warmth and coziness of your bedroom. All of your personal spaces are sacred to you, and clutter can be a killjoy at such times. Whether you have a huge mansion or a tiny little cubbyhole attic for a home, you will always find the need for additional space. To make the best use of space, it takes a bit of planning and a few small investments to incorporate simple yet underrated ideas in your home decoration. Invest in one statement piece per room like a mural or your best sectional sofa, and keep the rest of your home simple and sweet. Let's see how we can do this in a few different ways discussed below.
Ways to Decorate Your Home
Clear Your Entryway
This is the first impression your guests will have of your house. It's where welcome hugs and a lot of stories are shared. It's also the place you will welcome your family back home at the end of each day and should be kept neat and cozy. An addition of nice and elegant retractable door screens also gives not just an aesthetic value but also serves as enhanced protection against bugs while letting the fresh air in. They preserve the look of your doorway as they could be out of your sight when not in use, come in signature colors or custom match including wood grain, and provide shade and privacy for your home as well.  
You could also add aesthetically pleasing yet heavy-duty hooks to hang jackets, coats, bags, etc. A small seating chaise in front of a wall mirror is another good idea. The mirror opens up the space, and you could add a few personal touches within a wall cabinet or shelf. Throw a plush rug on the floor and Voila!
Create a Personalized Feature Wall
Dedicate one wall in your room to different wall art. You can either stick to one type of art like photos or scenic prints or mix it up. Use unique pieces that tell a story or depict your passions. After all, you will be the one spending the most time admiring your handiwork. Make sure your art reflects your personality and interests. You can paint the feature wall in a color complementary to the rest of the walls. Ensure you stick to just one wall and keep the other walls bare, for optimal effect. Place your sofa in front of your feature wall. Alternatively, you could also build ceiling-to-wall, full-length cupboards on one wall of a bedroom for maximum storage and a plush overall look.
Invest in New Fixtures and Use Molding for a Better Finishing
For an inexpensive way to lend an updated look to your home, incorporate new and fancy handles, doorknobs and light switch plates into your décor. Ceiling molding when used with hidden LED wall lights can have a fascinating effect on a room. You can opt for dim lighting, as per your preference.
Royalty-free image: https://www.pexels.com/photo/kitchen-and-dining-area-1080721/
Dress Up Your Functional Kitchen
You spend quite a bit of time in your kitchen-dining, whether it is with meal prep, cooking, or entertaining friends and family. To optimize space in a concise and pleasing manner, you can add overhead storage for cooking pots and other daily cooking essentials. Use vertical storage cabinets for your pantry essentials and cupboard drawers for tinned foods and other storage containers.
Make the Children's Room Multi-Functional
A child can use their room to sleep, study and play. Try to build these zones separately, if possible. For instance, you can hang a pegboard above a study table where your child can pin any important chores or school assignments on it. Dedicate a corner of the room as a toy or gaming area. Add plastic storage boxes that can be stacked neatly on top of each other. You can also add floating shelves as storage space. Keep the bed area clutter-free as it helps soothe the child to sleep much quicker and easier. Invest in good-quality mattresses, pillows, and quilts.
Ensure High Productivity in Your Home Office
With the onset of the pandemic and its lockdowns, there are so many families opting to or being asked to work from home. It has been efficient to build a small home office within your home where you can work, the kids can also do their homework or you can get together for a family craft session on weekends. Add lots of storage, both hidden and open, in order to maintain the sense of semblance and for maximum productivity. You could also invest in a little stationery and a desk organizer. Throw in a headphone set and you're ready to tackle another long day at work from the comfort of your home office!
Conclusion
Utilizing your home space doesn't have to break the bank. Investing in simple design ideas can create the illusion of size and improve the layout of your rooms. Creating a personalized feature wall, for example, or optimizing bathroom storage can transform the entire look and feel of your interior area. Follow the tips above to maximize room space with the latest design trends.