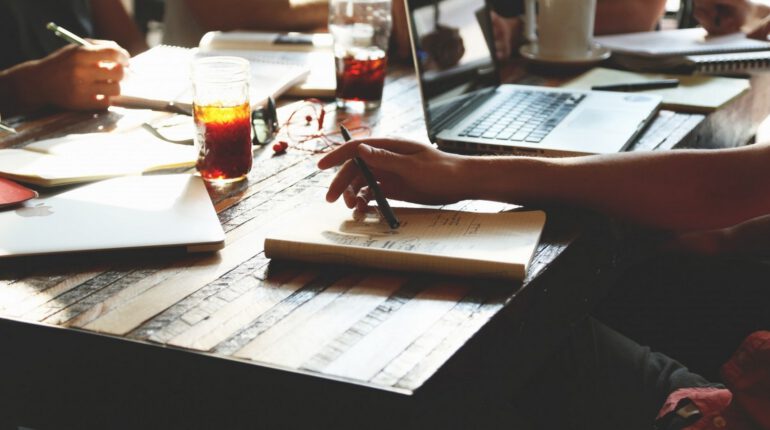 If you have ever faced a big project of any kind and don't want it to get the best of you, just remember the answer to this: "How do you eat an elephant?"
One bite at a time.
Tedious work planning is. It's so important – it helps people jump on board, gives clarity to all and settles down nerves from facing the unknown future. Well unless you are like me. I actually feel like planning sucks the excitement out of facing the unknown, but I've come to appreciate I may be a bit of a lone wolf on that one. So I plan, plot and process every tiny detail with the best of 'em.
My newest project "Southern Romance" is a large project that is estimated to take 16 months, and is filled with lists and lists of decisions to be made.
This week I have been wrestling with a real mindbender. We're restoring a 1906 era home and of course we want to introduce modern conveniences to it. I haven't faced this challenge in previous construction projects. Within the existing 2293 ft.², I need to squish in a laundry room (currently in an outside lean-to) a master bathroom and bedroom closets – all without wanting to give up the cute butler's pantry.
As of last week, I think I've managed to achieve this. Although I'm going with stacked laundry appliances (having been swayed by our Instagram followers) in favour of a large en-suite shower, I did manage to save the butler's pantry, which for me was an integral slice of vintage pie. If it was removed this gorgeous architectural gem of history would be gone forever.
My builder, real estate agent and husband all put forth compelling arguments to lose the pantry but I couldn't agree and wouldn't budge.
Because for me, I have come to love the butler's pantry knowing that it is a huge part in the Ford family house history.
Mary White, the Ford's housekeeper with Mrs. Ford and baby Mena taken in 1969
You see the butler's pantry was run and organised by Mary White – the family's house help. Mary began serving the Ford family in 1936 and did so for over 55 years.
She made the house run – she worked hard for the Fords – she cooked, she cleaned, she helped with the children, she did the washing and she ironed.  The house was immaculate. As Amy, one of Mr. & Mrs. Ford's granddaughters recalls: "One thing I know for sure is that the house has not been dusted since her death…. you've probably figured that out already!"
But she also said warmly: "I hope people will understand that Mary was a big part of our family. She helped raise my father and his brothers. It may be a bit odd but for years after her death, there was an ironing board with a shirt on it on the back porch. The iron sat in the upright position on the ironing board. This is where Mary did the ironing. It was as if time stood still after her death and it served as a reminder of Mary."
That is testament of just how much she was loved.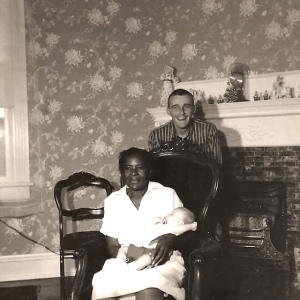 Mary with Michael Ford and baby Mickey . The picture's dated February 1960.
Sadly, Mary died in the early 90s. I have listened to Amy's father, Mr. Michael Ford share many fond memories of Mary helping them and the Fords helping her. It's a real life example of "Love your neighbor as yourself" – no matter age, gender, race or beliefs. In fact, when the restoration is complete in honor of Mary and the many who've served their neighbors like she did, the butler's pantry room will be named Mary's Pantry.
Mary: thank you for leaving a legacy for us to learn from.
Do you know of someone who deserves to be recognized for their unflinching service? Do you have any other examples of people "loving their neighbours"? As always, I'd love your thoughts and stories.