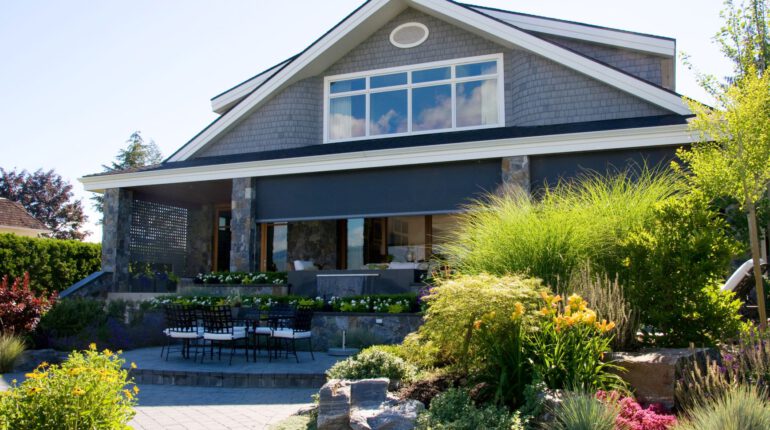 Over the past decade, there has been a 33% increase in demand for patios and porches among homeowners, per a report by Fixr. This presents a clear opportunity for the construction industry to capitalize on. 
No matter if you're renovating an existing structure or starting on a new build, here are some reasons to consider adding motorized outdoor solar screens to your next project:
1. Shading options make the space more useable
Retractable screens are the perfect way to create a comfortable and private outdoor living space. This extra area has immediate appeal for homebuyers, but it's not only the additional square footage they are looking at.
A high-quality solar screen system provides families with an outdoor living area safe from the sun's UV rays. Additionally, the exterior solar shade is ideal for reducing glare and keeping the area cool. This may appeal to homebuyers looking for ways to reduce their carbon footprint or save on energy bills.
2. Increasing convenience with motorized retractable screens
Another draw for homebuyers is the ease of use of the roller shades. Homebuyers can control the motorized screen with a remote control or their smartphone. With a click of a button, the solar walls come down to reduce heat and provide outdoor shade — no hand crank needed.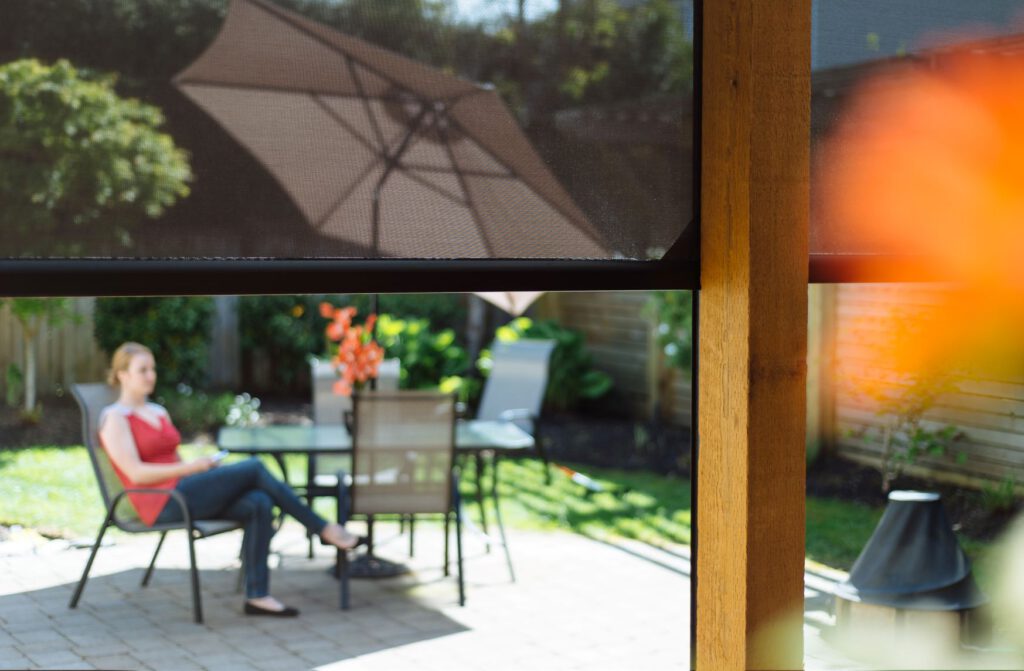 3. Enhances home value
According to SpaceWise, some new and renovated patios can net homeowners over 100% of their investment back. With this in mind, many buyers are looking for this feature in their future home.
4. Added versatility
Now more than ever, homebuyers are looking for ways to make the most of their spaces. When an area is designated as just indoor or outdoor, it limits the function of that room. A completely outdoor patio or deck is subject to the elements, so those looking to do things like install a television may be deterred. On the other hand, buyers wanting to do things like keep a small indoor garden may not be able to do so in a completely indoor room. An indoor-outdoor space provides countless possibilities for how it will be used, which makes it attractive to homebuyers with different interests and motivations.
5. Fewer design limitations
A completely indoor or outdoor room limits the design options as well. When a space has protective solar screens, homeowners don't have to worry about how furnishings and décor will hold up against sunlight, weather and insects.  Additionally, there's no need to put an unsightly tarp or protective cover over furniture while it's not in use, letting the homebuyer enjoy the look and aesthetic in any season. 
The addition of outdoor solar screens can even enhance the look of the property. Phantom Screens offers a variety of finishes and mesh options to ensure the screens are as stylish as they are functional.
6. The desire for smart homes isn't going anywhere
The idea of integrating technology into the home is nothing new, but it's clear that this trend is here to stay. HGTV listed technology that supports sustainability and transparency as top home tech trends for 2020. Prospective buyers want technology that supports an eco friendly lifestyle, and that can be easily hidden at the click of a button. Motorized screens can help regulate temperature without increasing energy consumption, and can retract out of site with the use of a remote control or smartphone. Buyers no longer want technology for the sake of showing it off, rather, they want it to be useful and discreet, and outdoor solar screens accomplish that.
Motorized solar screens can help increase the interest of prospective home buyers. When choosing a vendor to work with, or recommend to a client, consider Phantom Screens.
Heavy-duty solar screens from Phantom are easy to have installed and to maintain — they can even be attached to structures with no posts or walls. Only the remote needs a battery, and the motorized screens just require an electrical outlet to operate. With a large variety of finishes and mesh, our screens can seamlessly integrate with any structure.
Contact us today to learn more about Phantom wall and window screens.