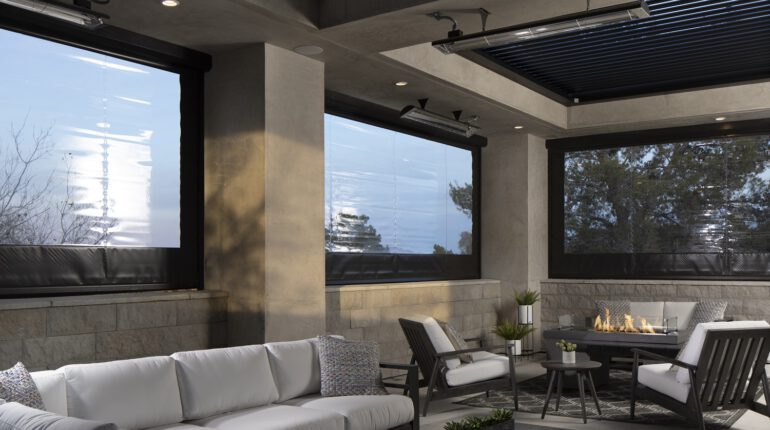 With families spending more time at home than ever, it has become important to consider how to maximize all of their available living space.
One feature that can help are motorized retractable screens. These panels can be customized with either mesh or vinyl, allowing homeowners to achieve a seamless blur between their outdoor and indoor living areas. They are also equipped with options to help combat seasonal weather so that your deck or patio can be enjoyed year-round.
No matter what time of year, your screens will help you to enhance your outdoor space. Read on to learn how you can use them throughout your own home, as well as some important considerations prior to installation.
Improving outdoor spaces
Retractable screens create a transitional living space to be enjoyed throughout the year. It's important to consider your family's needs and your goal for your outdoor area when selecting the right system for your home.
These screen panels can be added by themselves, or as part of a dual roller system, allowing you to choose between clear vinyl and mesh varieties. As they are customizable and fit openings as large as 25 feet wide, they can be utilized for multi-panel systems, outdoor spaces and more. For porches, patios, lanais, decks and outdoor kitchens, retractable screens can help you to enjoy your home's exterior space with added protection from insects and the elements.
Unlike standard screens that utilize mesh, clear vinyl screens allow you to fully enjoy the views around your home with minimal obstruction. These vinyl panels can assist with climate control and also keep bugs out, allowing homeowners to get more enjoyment out of their space year round.
With over 30 types of mesh available in different colors and weaves, you can select from a wide variety in this material and even have the option to utilize fabrics that offer fuller privacy. This can be especially useful for homeowners who reside in densely populated neighborhoods. In the colder months, studies have shown that these screens trap warm air inside and reduce drafts, while in hotter months they will help keep your living space cool, reducing heat and glare by up to 75%.
For further customizability, you can select a dual roller system with both a mesh and vinyl roller, meaning you can pick which material you would like to deploy depending on the weather and season. Enjoy the full range of benefits of both systems without ever having to sacrifice any comfort.
Prioritizing your needs for your outdoor living space will help you to select the best materials for the screens.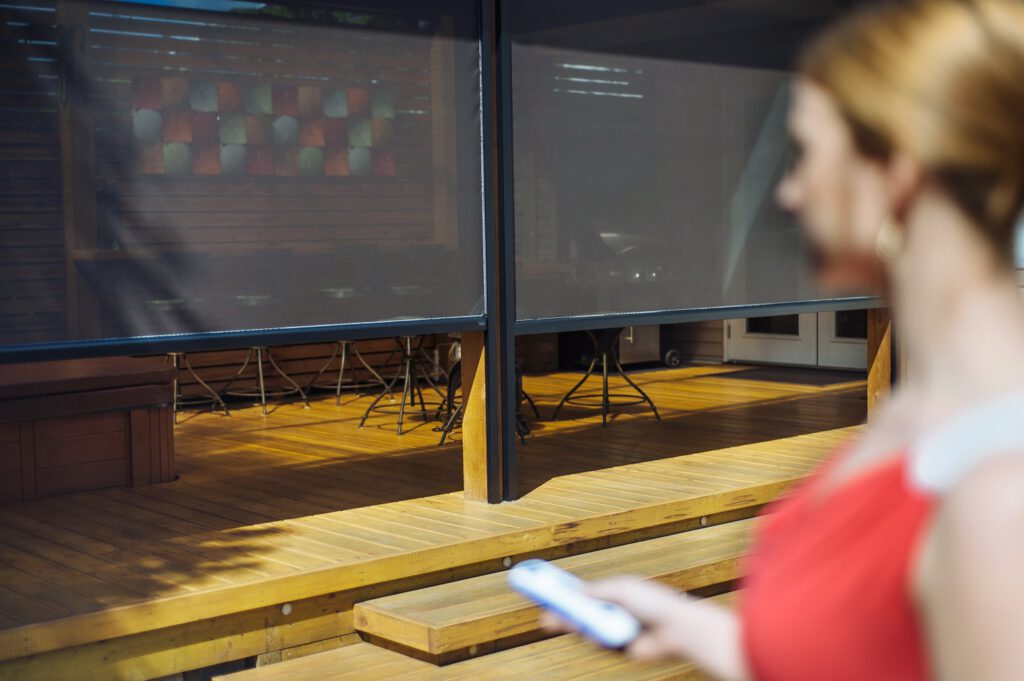 Motorized features
While retractable screens have several associated advantages of their own, adding a motor gives homeowners even more power. The technology behind these screens means that they can be deployed with just a touch of a button and retract when they are not needed, making them low maintenance and user-friendly.
If you already use a device network to automate your home controls, it's possible to add your new motorized screens to your existing system. Multiple channel controls can be used to operate any number of screens. Depending on preference, you can either use a wall-mounted switch, hand-held remote or even your very own smartphone to deploy and retract the system as needed.
Motorized retractable screens are equipped with environmental sensors so that they can respond to outdoor conditions if you are not home. Sun controls will automatically deploy screens to reduce heat gain during warmer weather, whereas window sensors send them into their protective housing when stormy conditions are sensed.
By employing a powerful motor and innovative technology, these systems can help to not only ensure the enjoyment of your outdoor space but also allow you to save on air conditioning costs and improve climate control, maximizing energy efficiency throughout the home year-round.
Installation
One major concern homeowners may have is how these screens will integrate into their property's current design. However, motorized retractable screens are actually built and customized for each specific home. They will merge perfectly with your style to maintain the integrity of your home's design. They can also be recessed from view by being installed into the frame during construction, or they can be mounted on the surface of an existing structure.
With a limited lifetime warranty, motorized retractable screens will serve as a great investment in your home. A seasonal cleaning with soap and water as well as retracting the screens during inclement weather will help them to stay in their best shape for years to come.
If you're ready to expand your living space and add more usable square footage by opening up your home through your covered deck or porch, Phantom Screens can help. Our local factory-trained installers care for your home and will help to ensure that your new retractable screens are seamlessly integrated.
Contact us today to learn more about the complete installation process and how to select the best screens for your home's needs.